!!HEADERN!!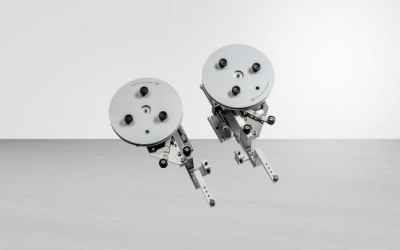 Interposer Module
The interposer module is a reel-to-reel feeding module using a left and right sub-module which makes it independent of the Hot Bar length. The module holds a full spool of interposer on the left side and the feeder part on the right side collects the used Interposer material. An intelligent spring mechanism in the module prevents the interposer material from sticking to the Hot Bar after bonding. The tension on the interposer material is automatically controlled through a spring-operated level. The Interposer Module is available in manual and fully-automatic configurations which can be applied to all of AMADA WELD TECH's Hot Bar systems.
Key Features:
Independent modular design for optimum system integration
Self-levelling mechanism for tape tension control
Optional upgrade module for automatic tape feeding
Sacron tape reel usage providing product protection and even pressure on bond area
Sacron tape neabling elimination of Hot Bar pollution
© 1997-2021 Esen Elektronik Ltd. Şti.
Tüm Hakları Saklıdır. Bu Web Sitesinde sunulan bilgilerin, yazı, çizim ve resimlerin aynen ya da kısmen yeniden kullanımı Esen Elektronik Ltd. Şti.'nin ya da orijinal imalatçı firmaların iznine bağlıdır.
ESEN ELEKTRONİK MÜH. DAN. SAN. VE TİC. LTD. ŞTİ.
Yaylagül Sk. 8/4 A. Ayrancı 06690 ANKARA TÜRKİYE
Tel:+90 312 468 8114 Faks:+90 312 468 8115