| | | | | | | |
| --- | --- | --- | --- | --- | --- | --- |
| Home | >> | Manufacturing Equipment | >> | Gloveboxes | >> | MX-2000, Modular Gloveboxes |
MX-2000, MODULAR GLOVEBOXES
Features:
Wide choice of control capabilities
Range of vacuum pumps
Sturdy, rugged, modular designs
Optional programmable logic
Optional single or dual-column gas purification units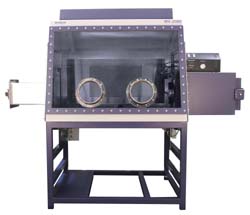 MX-2000 glove boxes are modular, which means that they can be configured to meet your process requirements. It can be built with any combination of ovens and antechambers, gas analyzers, moisture monitors, environmental controls, additional environmental chambers, and more!
© 1997-2012 Esen Elektronik Ltd.
All rights reserved. The reproduction of all the information, articles, pictures or drawings presented in this site is subject to approval of Esen Elektronik Ltd. and/or original manufacturing companies.
ESEN ELEKTRONIK MUH. DAN. SAN. VE TIC. LTD. STI.
Yaylagul Sk. 8/4 A. Ayranci 06540 ANKARA TURKEY
Tel:+90 312 468 8114 Faks:+90 312 468 8115